Posts for: December, 2012
By Wayne Cook, D.D.S.
December 19, 2012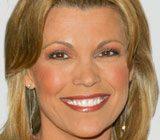 Here's an interesting tidbit of information on Wheel of Fortune host Vanna White: like many people, she grinds her teeth at night. In a detailed interview with Dear Doctor magazine, Vanna explained how she had to replace a filling in a back tooth several times because of her grinding habit. Eventually, she had her dentist make her a nightguard to protect her famous smile.
"I really try to sleep with it every night," Vanna told the magazine. "I try to keep it on my nightstand so when I go to bed, I remember to put it in. Or I will put it by my toothbrush so I can put it in after brushing my teeth at night."
The habit of teeth grinding or clenching is often associated with stress and/or sleep deprivation. It is referred to as "parafunctional" ("para" – outside, "function" – normal), meaning it can generate biting forces well outside the normal range — perhaps 10 times normal. This excessive force can affect many areas of the oral system. Teeth may become worn, chipped or loose; jaw joints or muscles can go into spasm; and some grinders (or "bruxers" as they are also called) may even experience discomfort of the head, ears, neck or back. Many times, a person with a grinding habit does not become aware of it until it is pointed out by a sleep partner or dental professional.
Like Vanna White's dentist, we often recommend a nightguard to those with nocturnal bruxing habits. It is made of a very thin, wear-resistant plastic that fits over the biting surfaces of the upper teeth only. The lower teeth are then free to glide or skate over the guard, which prevents them from biting into the upper teeth. Some people wear their guards during the day if they tend to clench their teeth when under stress.
If you are concerned about teeth grinding or interested in learning more about nightguards, please contact us today to schedule an appointment for a consultation. If you would like to read Dear Doctor's entire interview with Vanna White, please see "Vanna White." Dear Doctor also has more on "Stress & Tooth Habits."
By Wayne Cook, D.D.S.
December 04, 2012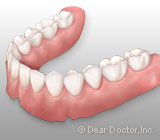 If an adult has lost his or her teeth (a condition called "edentulism"), full removable dentures (false teeth) can restore the person's appearance and ability to bite, chew, and talk properly. Even with our current extensive knowledge about tooth care and restoration, over 25 percent of Americans have lost all their teeth by the time they are 65.
How much do you know about dentures? Test yourself below.
How does tooth loss affect your bones?
Bone is a living substance that is constantly changing and rebuilding itself, depending on signals it receives from surrounding tissues. The bone that surrounds your teeth is called alveolar bone (from "alveolus," meaning sac-like). To keep healthy, alveolar bone needs stimulation or function such as chewing and your teeth touching your opposing teeth. If you lose your teeth, bone begins to melt away (resorb).
How can we minimize bone loss during tooth extraction?
We can maintain bone volume by using bone grafting techniques. While this sounds scary, it is a relatively easy procedure. The principle of bone grafting is to build a sort of scaffolding on which your body begins to build and maintain its own bone. Bone loss can be prevented by the placement of a few dental implants.
How are dentures designed and created?
The dentures that look best and work best for you are based on your original teeth. We often utilize photographs of how you looked with your natural teeth, along with your input about possible changes you would like to see. First we take detailed impressions (molds) of the residual ridges in which your teeth once rested. From these we make denture bases of a light cured plastic resin. We attach horseshoe-shaped rims made of wax to the bases, to simulate the position of the teeth as we work out their design and spacing, based on both appearance and function. The prosthetic teeth are then tried out in your mouth, adjustments are made, and the dentures are processed in a dental laboratory. The final product substitutes a pink colored plastic (methyl methacrylate) to represent the gums and white plastic material as the teeth, created to make them look as natural as possible.
What is your part in the denture fitting process?
As a patient with new dentures, you must learn to use your jaw joints, ligaments, nerves, and muscles in new ways to help stabilize your dentures and to relearn to speak, bite, chew, smile, and laugh with these new structures. It takes a little practice, but with your removable dentures you can once again enjoy a complete and normal life.
Contact us today to schedule an appointment to discuss your questions about full removable dentures. You can also learn more by reading the Dear Doctor magazine article "Removable Full Dentures."