Posts for: February, 2013
By Wayne Cook, D.D.S.
February 26, 2013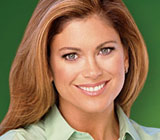 You may have seen Kathy Ireland on the cover of Sports Illustrated, but did you know that she is now a business mogul?
Through it all, Ireland has kept her model good looks, and that includes a bright, glowing smile. In a recent interview with Dear Doctor magazine she said that keeping her smile has required ongoing maintenance and more.
It seems that Ireland is a bit of a daredevil. She described a moment of fun with her children when she tried to stand in their wagon and "wagon surf" across her driveway. It ended badly when she crashed into her parked car and suffered a broken nose, split forehead and several broken teeth. "I learned that my love of adventure exceeds my coordination," she commented.
Ireland was born in Glendale, California in 1963. She demonstrated her drive to succeed early in life, starting at age 4 when she and her sister sold painted rocks from their wagon. Later she had a paper route. She began modeling at 17, with the goal of earning enough to pay for college or to start a business. In her successful modeling career she graced the covers of Glamour, Cosmopolitan, Harper's Bazaar and Sports Illustrated. Her first cover for Sports Illustrated, the publication's 25th Anniversary Swimsuit Edition, was the magazine's best-selling swimsuit issue to date.
In 1993 she founded her marketing and design firm, kathy ireland Worldwide. Now a billion-dollar industry, the firm sells fashions such as wedding gowns and bridesmaid dresses, as well as a wide range of items for home and family.
She has also written a number of books teaching others how to be successful — based on her own experience — as well as three children's books.
Discussing her oral health, Ireland says that she required serious professional assistance on more than one occasion. When she was a child she knocked out a tooth and later knocked it loose again. As an adolescent she wore braces for about three years. After the driveway incident she needed numerous veneers and dental implants to replace a lost tooth and restore her smile.
Her maintenance routine includes regular flossing and brushing, and she has her teeth cleaned every six months. She keeps up on her reading about the latest in research on dental health, and encourages her three children to floss and brush their teeth, to limit eating sweets and to do what they can to avoid injuries to their mouths and teeth.
Contact us today to schedule an appointment to discuss your questions about how to maintain your own smile. You can also learn more by reading the Dear Doctor magazine article "Kathy Ireland."
By Wayne Cook, D.D.S.
February 03, 2013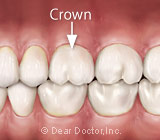 Dental crowns are excellent tools that we use to restore functionality, color and/or beauty to teeth and your smile. And while many people may have heard of them, often times there are many questions surrounding the process, costs and their maintenance. This is why we have put together this list of some of the questions we are commonly asked on this subject. Our goal is to provide you with straightforward answers so that you have a clearer understanding of the treatment and are comfortable making the decision to go forward with these excellent tooth restorations should they ever be required.
What Is A Crown?
A dental crown is a tooth-shaped "cap" or cover that a dentist places over a tooth that is badly damaged from trauma or decay in order to restore its color, strength, size and functionality. They are also used for cosmetic reasons to improve discolored or misshapen teeth.
Why Can The Cost Of Crowns Vary?
The reason the cost of a crown can vary greatly, even from dentist to dentist is quite simple. The most beautiful crowns require the artistry and years of experience of a team of dental professionals; your dentist and the laboratory technicians that handcraft crowns. To meet higher expectations of some individuals requires more experience, artistry and skill. And great art just tends to cost more. A customized temporary crown may even be used as a preview to see what a final crown will look like. Another critical factor is the choice of materials used. For example, while all porcelain crowns are made from high-quality ceramic (glass) material, they are not equal. It is therefore more expensive in terms of time, skill and expertise to produce the most natural looking results.
How Long Will A Crown Last?
Most dentists expect a crown to last at least 7-10 years with normal wear and proper maintenance. However, depending on the materials used and location of the tooth, they can last upwards of 50 years or more. For example, a gold crown has the longest lifespan because gold is such a durable material that has little to no negative impact on surrounding teeth. On the other hand, porcelain produces a completely natural look but can cause wear to adjacent teeth.
What Materials Are Most Often Used For Crowns?
The three most common materials used to make crowns are as follows:
Gold
Porcelain-Fused-to Metal (PFM)
All porcelain
To learn more on this topic, read the Dear Doctor article, "Porcelain Crowns & Veneers." You can also contact us to discuss your questions or to schedule a consultation.