Posts for: June, 2013
By Wayne Cook, D.D.S.
June 27, 2013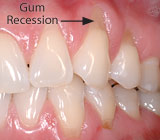 If you have noticed that one or more of your teeth have lost some of the surrounding pink gum tissue so that part of the root surface is now uncovered, you are experiencing gum recession. It's a very common problem — in fact millions of Americans have some degree of gum recession. Fortunately, there are very effective methods of treating it.
Gum recession can be unsightly, but there are more serious concerns. Tooth root surfaces exposed by gum recession can become sensitive to temperature and pressure changes and can decay or wear away. In very severe cases, teeth can actually be lost. That's because gum or "gingival" tissue as it is medically known is supposed to encircle and firmly attach to the necks of the teeth and the underlying bone. This forms a protective barrier that is resistant to the abrasive action of foods during eating, biting and chewing.
Gum tissue is largely made of a fibrous protein called collagen, covered by a layer of another very resilient protein called keratin (nails and hair are also made of it). Yet it is still possible for this tough tissue to lose its grip on the teeth it protects. Here are some of the ways this can happen:
Ineffective oral hygiene — inadequate removal of dental bacterial plaque (biofilm) with daily brushing and flossing.
Excessive brushing (and flossing) — too hard, or for too long.
Habits — holding foreign objects between the teeth, such as bobby-pins, nails etc that press on the gum tissues.
Oral appliances and ornaments — badly fitting removable partial dentures and orthodontic appliances (braces), or tongue bolts and oral piercings can apply pressure to the gums.
Treatment will depend in part on whether the recession is stable or progressive. For example, an older person might have a few areas of gum recession but there are still adequate zones of attached protective gum tissue and the exposed tooth root surfaces are healthy. In this case, there may not be reason to do anything but monitor the situation. On the other hand, a teenager with a history of fairly rapid gum recession (over a period of months) usually requires immediate treatment. The dental specialty of periodontics ("peri" – around; "odont" – tooth) has developed predictable surgical techniques to deal with recession.
Free Gingival Grafting, for example, involves taking a very thin layer of skin from the palate, where the tissue is identical to gum tissue, and transplanting it to the area where gum has been lost. Both sites will heal in a very predictable and uneventful manner. The free gingival graft is so-called because it is "freed" from the donor (original) site completely. It is crucial to make sure individuals with gum recession correct faulty hygiene habits prior to this (or any) treatment so that they will not jeopardize their future results.
If you are concerned about gum recession, please contact us or schedule an appointment for a consultation. You can also learn more about gum recession and gingival grafting by reading the Dear Doctor magazine article "Periodontal Plastic Surgery."
By Wayne Cook, D.D.S.
June 14, 2013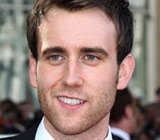 If you haven't seen a recent picture of Matthew Lewis, the actor who played Neville Longbottom in all eight Harry Potter movies, you may be in for a surprise: It seems the plump, awkward teenager from Gryffindor has been magically transformed into a post-Hogwarts hunk. What kind of wizardry did it take to change his memorably snarled teeth into a leading man's sparkly smile? The kind skilled cosmetic dentists perform every day!
While special effects created some of the character's dental disarray, the actor's own teeth were far from perfect. And, as Lewis recently noted, the film studio urged him to postpone cosmetic dental work until the movies were all done. "It was something I'd always wanted to do, but it would have meant me wearing a brace for two years," he told an interviewer with the Yorkshire Evening Post. "Warner Brothers said if I put it off until we'd finished filming they'd pay for it — and they did."
There are plenty of people, like the twenty-something actor, who put off orthodontic treatment until after their teen years. If you're wondering whether there's still time to get orthodontic work done, then take heart — it's never too late to straighten your teeth!
Today, an estimated twenty percent of orthodontic patients are adults. Compliance with the orthodontic program (meaning thorough regular brushing and flossing, wearing elastics, etc.) is often less of an issue with adults than with teens. Plus, there are some options that can help ensure your orthodontic appliances will fit in with a more mature image.
One is colorless braces. In this system, the brackets (the parts that are bonded to the front teeth and hold the archwire) are made of a clear ceramic material that blends in with the tooth's natural color. This makes them hard to see unless you look closely. Inconspicuous yet effective, clear braces have been the first choice of many celebrities, such as Tom Cruise and Faith Hill... and lots of "regular" adults too.
Another option is lingual braces. These are truly invisible, because they attach behind the teeth (on the tongue side) instead of in front. They work just like the standard braces, and they're appropriate in many situations. However their cost is higher, and the space they occupy in the mouth may take the wearer a bit of time to get used to.
A third option is clear aligners. Unlike braces, which aren't normally removed until orthodontic treatment is nearly complete, clear aligners are easily removable. They consist of a series of transparent trays made of special plastic, which are worn over the teeth 22 hours per day. Each tray in the series is worn for a few weeks, and each moves the teeth a small amount; all together, they can accomplish a big change.
Aligners work well for correcting mild to moderate malocclusion (bite problems). Plus, you can temporarily remove them for important social occasions. But best of all, they're virtually undetectable — so whether or not you play the role of a wizard in the movies, you won't need a magic spell to make them invisible!
Which option is right for you? That's something we would be happy to discuss. If you would like more information about adult orthodontic treatment, please contact us or schedule an appointment for a consultation. You can learn more by reading the Dear Doctor magazine article "Orthodontics for the Older Adult."