Posts for: August, 2013
By Wayne Cook, D.D.S.
August 21, 2013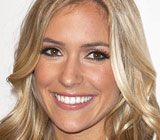 While she was pregnant with her son Camden Jack Cutler, 25-year-old Kristin Cavallari noticed an odd occurrence in her bathroom sink: "Every time I floss, my sink looks like I murdered somebody!" the actress and reality-TV personality exclaimed. Should we be concerned that something wicked is going on with the star of Laguna Beach and The Hills?
Before you call in the authorities, ask a periodontist: He or she will tell you that there's actually no mystery here. What Cavallari noticed is, in fact, a fairly common symptom of "pregnancy gingivitis," a condition that affects many expectant moms in the second to eighth month of pregnancy. But why does it occur at this time?
First — just the facts: You may already know that gingivitis is the medical name for an early stage of gum disease. Its symptoms may include bad breath, bleeding gums, and soreness, redness, or tenderness of the gum tissue. Fundamentally, gum disease is caused by the buildup of harmful bacteria, or plaque, on the teeth at the gum line — but it's important to remember that, while hundreds of types of bacteria live in the mouth, only a few are harmful. A change in the environment inside the mouth — like inadequate oral hygiene, to use one example — can cause the harmful types to flourish.
But in this case, the culprit isn't necessarily poor hygiene — instead, blame it on the natural hormonal changes that take place in expectant moms. As levels of some female hormones (estrogen and/or progesterone) rise during pregnancy, changes occur in the blood vessels in the gums, which cause them to be more susceptible to the effects of bacterial toxins. The bacteria produce toxic chemicals, which in turn bring on the symptoms of gingivitis — including painful and inflamed gums that may bleed heavily when flossed.
Is pregnancy gingivits a cause for concern? Perhaps — but the condition is generally quite treatable. If you've noticed symptoms like Kristen's, the first thing you should do it consult our office. We can advise you on a variety of treatments designed to relieve the inflammation in your gums and prevent the harmful bacteria from proliferating. Of course, your oral health (and your overall health) are prime concerns during pregnancy — so don't hesitate to seek medical help if it's needed!
How did things work out with Kristen? She maintained an effective oral hygiene routine, delivered a healthy baby — and recently appeared on the cover of Dear Doctor magazine, as the winner of the "Best Celebrity Smile" contest for 2012. And looking at her smile, it's no mystery why she won.
If you would like more information about pregnancy gingivitis, please contact us or schedule an appointment for a consultation. You can also learn more by reading the Dear Doctor magazine articles "Expectant Mothers" and "Kristen Cavallari."
By Wayne Cook, D.D.S.
August 06, 2013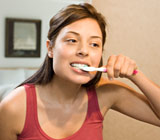 We humans have been cleaning our teeth for millennia. While the tools and substances have changed (we don't use twigs or pumice anymore), the reasons haven't: we want a nice, fresh smile and a clean-feeling mouth.
Objectively, though, oral hygiene has one primary purpose — to remove dental plaque, the whitish film of bacteria that grows on unclean tooth surfaces and at the gum line. Removing this decay-causing film can drastically reduce your risk of dental disease.
Effective oral hygiene depends on two primary tasks: brushing and flossing. You should perform these tasks at least once (flossing) or twice (brushing) in a 24-hour period. Brushing involves a simple technique. You hold your toothbrush (a well-designed, multi-tufted brush) in your fingertips with the same pressure as you would a pen or pencil. You then gently scrub all of the tooth surfaces starting at the gum line, holding the brush at a 45-degree. "Gently" is the key word here: it's possible to damage your tooth and gum surfaces by brushing too vigorously.
While brushing seems easier for people to fit into their daily routine, flossing seems to be harder. It's just as important, though, because over half of plaque accumulation occurs between teeth, in areas where brushing can miss. Like brushing, flossing isn't difficult to do. Holding a strip of floss taut by your fingers between both hands, and gently slipping the floss between your teeth you form a "C" shape around each tooth surface as you apply pressure onto the one surface you are cleaning. Gently move the floss up and down for three or four strokes or until you hear a squeaky clean sound (that's when you know the surface is clean). Then you go to the other tooth surface by lifting the floss above the gum line so that you don't damage the gum tissue in between the teeth.
You should also schedule regular checkups and cleanings with our office to supplement your daily routine. Professional cleanings remove any hidden plaque that brushing and flossing may have missed. A checkup also gives us a chance to evaluate how well your hygiene program is progressing. Our partnership in proper oral hygiene can make all the difference in you avoiding tooth decay and other dental diseases.
If you would like more information on proper oral hygiene, please contact us or schedule an appointment for a consultation. You can also learn more about this topic by reading the Dear Doctor magazine article "Oral Hygiene Behavior."