Posts for: November, 2013
By Wayne Cook, D.D.S.
November 27, 2013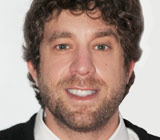 One day, while looking at old pictures of himself, 34-year-old American Idol finalist Elliott Yamin noticed something peculiar. "I [had] figured out how to kind of smile without displaying all my teeth," he told an interviewer with People magazine. The reason: Yamin (like many other people) was unhappy with the way his teeth looked. And others noticed it too: "[They] wrote things in magazines, called me Snaggletooth and things like that," he said.
Yamin's situation came to the attention of dentists from across the country, several of whom offered to fix his crossbite and other problems. One of them even provided the singer with computer-generated renderings of how he'd look after a total "smile makeover" — and that was enough to convince him. Finally, after receiving a set of porcelain veneers and other dental work — all provided free of charge by the concerned dentist — Yamin has the smile he always dreamed of.
You don't have to be an American Idol finalist to appreciate the benefit of having a super smile — and it's never too late to get started! As Yamin found out, a "smile analysis" is the first step, and it's a critical part of the process. This is the time when you and your dentist get to know each other, and begin talking about what kind of a look you want to achieve, and what you should realistically expect.
But it can be tough to express in words exactly what your idea of a perfect smile looks like. Are the teeth completely regular in alignment and "Hollywood white?" A little bit asymmetrical and more natural-looking — or something in between? And exactly how would that look on you? Fortunately, we have a variety of ways to help you make those decisions.
One is computer-generated images, like the ones that persuaded Yamin. Convenient and relatively easy to produce, they're a great way to preview possible changes before a single tooth is touched. However, some people may find it hard to picture their new smile from different angles and in different lights. If you'd like a better representation, it's possible to produce a 3-D model of the proposed work before it's done. This can let you truly visualize your new smile in a realistic way.
If you need even more evidence before deciding, there's still more that can be done. Your teeth can be built up to their new contours with composite resin, a tooth-colored restoration material that can change tooth shape and size with relative ease. A related procedure, the "provisional restoration," gives you a complete preview of the final work. When you're satisfied, the "temporary" materials are replaced with more permanent ones, like long-lasting porcelain veneers. Whichever method you choose, you'll be on your way to a better looking smile.
If you would like more information about a smile makeover, please contact us or schedule an appointment for a consultation. You can also learn more by reading the Dear Doctor magazine articles "Great Expectations — Perceptions in Smile Design" and "Smile Design Enhanced with Porcelain Veneers."
By Wayne Cook, D.D.S.
November 12, 2013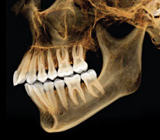 From its development and first use over a century ago, radiography — the use of x-rays to view internal images in the body — has revolutionized how dentists diagnose and treat patients. Now, a new technology known as Cone Beam Computing Tomography (CBCT) promises to take us "light years" beyond even today's most modern conventional x-ray devices.
X-rays expose images on special film after passing through a mass, like the human body. Because they pass more easily through soft tissues than through hard structures like teeth or bone, the softer tissues will appear darker. This property can reveal even subtle distinctions in density such as might be the case with a fracture or a tooth cavity.
Standard radiography, though, has its limitations. It takes extensive training and experience for a dentist to interpret exactly what they're seeing in an x-ray. Their two-dimensionality (like a photograph) limits the amount of information we can derive from the physical structures being examined. And due to radiation exposure to patients, we must limit the amount of their use for each individual patient.
CBCT improves on those limitations. The device projects a cone-shaped beam of x-rays as it rotates around a patient's head. During this rotation it records hundreds of images that a computer can later digitally format in a variety of ways. The result: instead of a two-dimensional flat view, we can now three-dimensionally view the mouth from a variety of different angles and in greater detail. Best of all, one scan can provide enough imagery data to view in detail the entire skull or a jaw, or something as minute as a single root canal within a tooth.
CBCT is already improving the accuracy of diagnostics and treatment in a variety of dental specialties, including orthodontics, implantation and oral surgery. And properly set, the radiation exposure is no more or less than a full-mouth series of x-rays, and up to ten times less than CT scanning.
Advances like CBCT increase the range and accuracy of diagnostics and improve treatment for a variety of conditions. As they grow in use, the result will be more successful dental outcomes for you and your family.
If you would like more information on CBCT diagnostics, please contact us or schedule an appointment for a consultation. You can also learn more about this topic by reading the Dear Doctor magazine article "Getting the Full Picture With Cone Beam Dental Scans."