Posts for: March, 2014
By Wayne Cook, D.D.S.
March 25, 2014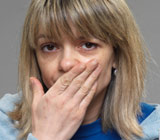 While most people can expect to have a temporary case of bad breath after eating spiced foods like garlic, smoking, drinking coffee or wine, odor that persists and becomes chronic is not something to take lightly. We can help diagnose the underlying cause of your bad breath, making both you and the people around you much happier!
Chronic bad breath, also known as "halitosis," affects about 25% of Americans to some extent. Treating the condition effectively requires a thorough oral examination to uncover the source of the odor. Although some forms of bad breath can be caused by medical conditions like diabetes, lung infections, even kidney failure and cancer, between 85% and 90% of cases originate in the mouth. There are more than 600 types of bacteria found in the average mouth and, given the right (or, should we say, wrong) oral environment, dozens of these bacteria can produce foul odors including a "rotten egg" smell from the production of volatile sulfur compounds (VSCs).
Some of the oral causes of bad breath include:
Naturally occurring bacteria found on the back of the tongue that thrive on food deposits, dead skin cells and post nasal drip (Yuck!);
Dry mouth, after sleeping, especially when an individual breathes through his or her mouth;
Unclean dentures;
Decaying or abscessed teeth;
Diseased gums; and
Infected tonsils.
Once the exact origin of the odor has been determined, we can tell you what form of treatment you'll need to successfully banish the bad breath for good. If your problem is merely the result of poor oral hygiene you can play a large role in turning your situation around. In any case, treatments for mouth-related halitosis can include:
A careful, at-home plaque control routine using dental floss and a special toothbrush designed to clean between teeth — nobody really knows how to properly clean without professional instruction;
In-office and at-home tongue cleaning using a tongue scraper or brush;
Instruction on how to properly clean your dentures;
To treat underlying gum disease, periodontal therapy in the form of a deep cleaning, also known as scaling or root planing; and
Extraction of wisdom teeth that exhibit debris-trapping gum tissue traps.
So if you are ready to toss your breath mints away and pursue a more permanent solution to rectify your mouth odor, call our office today to schedule an appointment. For more information about the causes of bad breath, read the Dear Doctor magazine article "Bad Breath: More Than Just Embarrassing."
By Wayne Cook, D.D.S.
March 10, 2014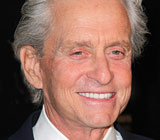 Actor Michael Douglas shocked TV audiences across the country when he announced on the David Letterman Show in 2010 that he has stage IV oral cancer. Fortunately, the cancer had not spread and his radiation and chemotherapy treatments were successful. This year, Douglas teamed up with the Oral Cancer Foundation to warn others about the dangers of the disease and the importance of early detection. In particular, he wants younger people to know that even if they don't smoke and drink a lot, as he admitted to Letterman that he did, they are still at risk.
As Douglas states in a PSA he made with the foundation, "the fastest growing segment of the people developing oral cancers are young, non smokers." That's due to a strain of the Human Papilloma Virus known as HPV16 that can be transmitted through oral sex. So it's important to avoid risky sexual behaviors and to be screened regularly for this devastating disease that claims one life every hour in the U.S., according to the Oral Cancer Foundation.
An oral cancer screening is a simple visual and tactile exam done right here at the dental office. We will feel your neck for lumps and inspect your lips and all inside surfaces of the mouth, including the back of your throat, for any suspicious signs. If any are found, a biopsy (laboratory analysis of a tissue sample) can be ordered.
Most oral cancers are "squamous" (small scale-shaped) cell carcinomas that occur in the lining of the mouth and are often preceded by recognizable changes (lesions) of the oral membranes. White or red patches begin to form in the pre-cancerous stage, and as the cancer develops, a non-healing ulcer may appear. If you notice any such changes in your mouth, please let us know.
Michael Douglas ends his PSA with the following plea: "So please, the next time you visit your dentist or your medical doctor, ask for this simple screening. Finding oral cancer in its earliest stages may save your life." We agree, which is why we always perform this screening during your regular dental check-up. If it's been a while since your last appointment, please come in and see us.
If you would like more information about oral cancer, please contact us or schedule an appointment for a consultation. You can learn more about the disease in the Dear Doctor magazine article "Oral Cancer."