Posts for: July, 2014
By Wayne Cook, D.D.S.
July 17, 2014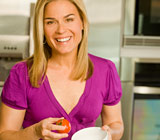 Cat Cora is a world-class chef, restaurateur, best-selling author, and philanthropist — on top of being the first female chef on the hit television show Iron Chef America. She is also the mother of four active young sons. And while all these important roles require her daily attention, she makes oral health a top priority for herself and her family through diet, brushing, flossing and routine visits to the dentist.
During a recent interview with Dear Doctor magazine, Cat revealed that she had her wisdom teeth removed when she was in her thirties and another tooth extracted and replaced with a dental implant. When asked to compare the two experiences, Cat said that the implant was "much easier for me." She went on to say, "It feels very natural" and "now, I don't even think about it."
Some may be surprised by Cat's response; however, we find it to be a quite common one.
There is no question that over the last two decades, dental implants have revolutionized tooth replacement and the field of dentistry. A dental implant, used to replace missing teeth, is placed in the jawbone with a minor surgical procedure. What's amazing is that over time these dental implants actually fuse with or integrate into the bone, thus making them an ideal permanent solution for replacing a missing tooth. They are typically made of commercially pure titanium, a substance that has been used for medical and dental implants for years. The crown, the part above the gum tissues, is attached to the implant via a retaining screw and a connecting piece called an abutment. The crown itself is artistically crafted using porcelain to mimic the look and feel of a natural tooth — just as Cat Cora describes.
To learn more about dental implants, continue reading the Dear Doctor magazine article "Dental Implants, Your Third Set of Teeth." Or you can contact us today to schedule an appointment so that we can conduct a thorough examination and discuss what treatment options will be best for you. And to read the entire interview with Cat Cora, please see the article "Cat Cora."
By Wayne Cook, D.D.S.
July 02, 2014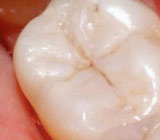 Q: I've never heard these terms used in dentistry. What are they?
A: In the decorative arts, an inlay refers to a small piece of distinctive material that's set into a larger matrix: a mother of pearl accent worked into the lid of a wooden box, for example. In dentistry, it means something similar: a filling (or restoration) that's fabricated in a dental laboratory, and then set into a tooth in an area that has been damaged or lost.
Q: What's the difference between inlays and onlays?
A: An inlay is made to fit in between the cusps (small points or ridges) of a back tooth (molar or premolar), and it covers only a small region of the biting surface of the tooth. If the restoration covers one or more of the cusps, it's an onlay.
Q: Why would I need to have one of these restorations?
A: When a tooth has suffered damage (from decay or trauma, for example), and the affected area is too large to fill with a simple filling — but not large enough to need a full crown (cap) — then an inlay or onlay may be just right. Both of these procedures are considered "indirect fillings," because the restoration itself is custom-fabricated in a laboratory and then bonded to the tooth in the dental office.
Q: What is the procedure for getting an inlay or onlay?
A: It's similar to having a crown placed, in that it typically takes more than one office visit — yet an inlay or onlay involves less removal of tooth structure than a crown would require. On the first visit, after the area has been anesthetized (usually with a numbing shot), any decay is removed, and the tooth is shaped to receive the restoration. Next, a model of the tooth is made (either with putty or in digital form), and the tooth receives a temporary filling. The laboratory uses this model to create the actual inlay or onlay, which may take a few days; it is then permanently attached to the tooth on a second visit to the office. However, with today's advances in CAD/CAM (computer aided design/ manufacturing) technology, some inlays or onlays can be made in the office and placed in the same visit.
Q: What else do I need to know about these tooth restorations?
A: Both inlays and onlays are strong and long-lasting restorations that need no more care than you would normally give your teeth: namely, regular brushing and flossing, and periodic checkups at our office. But because they don't require the removal of a great deal of natural tooth material, they are considered relatively conservative treatments. After a thorough dental examination, we can recommend the type of tooth restoration that's most appropriate in your individual circumstances.
If you'd like to find out more about inlays or onlays, please contact us or schedule an appointment for a consultation. You can also read the Dear Doctor magazine articles "Porcelain Crowns & Veneers" and "The Natural Beauty of Tooth Colored Fillings."