Posts for: February, 2015
By Wayne Cook, D.D.S.
February 27, 2015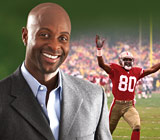 According to NFL football legend Jerry Rice, "Football can be brutal—injuries, including those to the face and mouth, are a common risk for any player." And if anyone should know, it would be Jerry.
During an interview with Dear Doctor magazine, the retired NFL pro discussed his good fortune to have had just a few minor dental injuries during his pro playing days. He credits this success to the trainers and protective equipment professional football teams have to keep the players off the injured list. However, this was not the case during his earlier years in football. "There wasn't a lot of focus on protecting your teeth in high school," he said. "You had to buy your own mouthguard." He continued, "Things changed, though, when I went to college."
Unfortunately, not much has changed since Jerry's high school days for young athletes. This is why we feel it is so important that parents and caregivers understand the risks and take proactive steps towards protecting the teeth, gums, bone and soft tissues of their children with a mouthguard. This is especially true for anyone — adults included — participating in high-contact sports such as basketball, baseball, hockey (field and ice), football, soccer, wrestling, martial arts, boxing and activities such as skateboarding, in-line skating and skydiving.
But all mouthguards are not the same. The best mouthguard, based upon evidence-based research, is one that is custom-designed and made by a dental professional, with the athlete's individual needs taken into account.
We make our custom mouthguards from precise and exact molds of your teeth, and we use resilient and tear-resistant materials. Once completed, it should be comfortable yet fit snugly so that you are able to talk and breathe easily with it in place. It should also be odorless, tasteless, not bulky and have excellent retention, fit and sufficient thickness in critical areas.
And while mouthguards may seem indestructible, they do require proper care. You should clean it before and after each use with a toothbrush and toothpaste, transport and store the mouthguard in a sturdy container that has vents, make sure not to leave it in the sun or in hot water and rinse it with cold, soapy water or mouthwash after each use. And last but not least, you should periodically check it for wear and tear so that you will know when replacement is needed.
To learn more about mouthguards, continue reading the Dear Doctor magazine article "Athletic Mouthguards." Or you can contact us today to schedule an appointment so that we can conduct a thorough examination and make molds of your teeth for your custom mouthguard. And if you want to read the entire feature article on Jerry Rice continue reading "Jerry Rice — An Unbelievable Rise To NFL Stardom."
By Wayne Cook, D.D.S.
February 12, 2015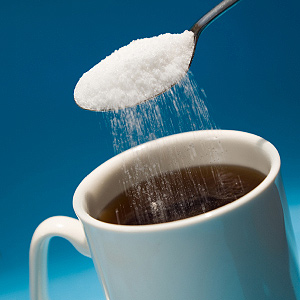 Although a variety of foods provide energy-producing carbohydrates, sugar is among the most popular. It's believed we universally crave sugar because of the quick energy boost after eating it, or that it also causes a release in our brains of serotonin endorphins, chemicals which relax us and make us feel good.
But there is a downside to refined sugars like table sugar or high-fructose corn syrup: too much in our diets contributes to conditions like cardiovascular disease, diabetes, and dental disease. On the latter, sugar is a primary food source for oral bacteria; the more sugar available in the mouth the higher the levels of bacteria that lead to tooth decay and gum disease.
Moderating your intake of refined sugars and other carbohydrates can be hard to do, given that many processed foods contain various forms of refined sugar. A diet rich in fresh fruits and vegetables helps control sugar intake as well as contribute to overall health. Many people also turn to a variety of sugar substitutes: one study found roughly 85% of Americans use some form of it in place of sugar. They're also being added to many processed foods: unless you're checking ingredients labels, you may be consuming them unknowingly.
Sugar substitutes are generally either artificial, manufactured products like saccharin or aspartame or extractions from natural substances like stevia or sorbitol. The good news concerning your teeth and gums is that all the major sugar substitutes don't encourage bacterial growth. Still, while they're generally safe for consumption, each has varying properties and may have side-effects for certain people. For example, people with phenylketonuria, a rare genetic condition, can't process aspartame properly and should avoid it.
One alcohol-based sweetener in particular is of interest in oral care. A number of studies indicate xylitol may actually inhibit bacterial growth and thus reduce the risk of tooth decay. You can find xylitol in a variety of gum and mint products.
When considering what sugar substitutes to use, be sure you're up to date on their potential health effects for certain individuals, as well as check the ingredients labels of processed foods for added sweeteners. As your dentist, we'll also be glad to advise you on strategies to reduce sugar in your diet and promote better dental health.
If you would like more information on your best options for sweeteners, please contact us or schedule an appointment for a consultation. You can also learn more about this topic by reading the Dear Doctor magazine article "Artificial Sweeteners."