Posts for tag: teeth whitening
By Wayne Cook, D.D.S.
March 25, 2015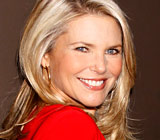 Christie Brinkley's world-famous smile has graced the covers of countless magazines for over 30 years. In fact, in her own words from an interview with Dear Doctor magazine, the supermodel said, "I think my smile was really my passport to success in the modeling industry." And while most of her smile's appeal comes naturally, Christie does give it a boost with good oral hygiene, regular dental checkups and tooth whitening. As Christie says, "When it comes to teeth, keep it as natural as possible. Do not go overboard on whitening. You want your teeth to compliment your face…your friends should not be required to wear sunglasses when you smile!"
Aside from some potential minor side effects such as tooth sensitivity, whitening teeth through bleaching is a relatively inexpensive way to brighten your smile conservatively and successfully. There are three common methods, as described below:
An external or vital approach where "vital" (living) teeth are bleached through direct contact to the tooth's surface.
An internal or non-vital approach where the tooth is whitened from the inside during a root canal treatment.
A combination approach in which both internal and external bleaching techniques are used.
But what causes teeth to become discolored?
Tooth discoloration can be caused by a traumatic blow to your teeth resulting in nerve tissue (pulp) death. However, there can be many other causes: consuming or using products that stain the teeth such as coffee, tea, cola, tobacco products and red wine, to name just a few. Aging is another factor, as it results in changes in the mineral structure of the tooth as the enamel, the outermost layer, loses its beautiful and youthful translucency. Other causes include exposure to high levels of fluoride; tetracycline, an antibiotic, administered during childhood; inherited developmental disorders and jaundice in childhood; and tooth decay.
The good news is that we routinely brighten smiles through tooth whitening. To learn more about brightening your smile, continue reading the Dear Doctor magazine article "Teeth Whitening." Or if you are ready to have your teeth professionally whitened, contact us today to schedule an appointment so that we can conduct a thorough examination and discuss your whitening treatment options. And if you want to read the entire feature article on Christie Brinkley, continue reading "The Secret Behind Christie Brinkley's Supermodel Smile."
By Wayne Cook, D.D.S.
May 16, 2014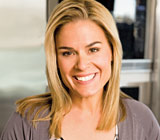 When asked about her dazzling white smile, Cat Cora, the first female iron chef on the hit television series Iron Chef America, freely admits to maintaining the brightness of her smile with professional whitening sessions.
"With what I do, whitening your teeth is like getting your hair done, your nails done and everything else you have to do to be on television," Cat recently told Dear Doctor magazine. However, she does have her limits. "I want my teeth to be white and healthy looking — but not stark white or looking like they could glow in the dark," she said with a laugh.
Cat's perceptions and experiences with tooth whitening may accurately describe Hollywood, but through the power of media, celebrities and their respective fan bases, having attractive white teeth has become a goal for most people. This is because white teeth are subconsciously associated with youth and virility.
Here in the dental office, we can use professional-strength "power bleaching" to whiten teeth several shades in a single visit. To prevent irritation to the area surrounding the teeth being treated, we isolate the gums and skin of the mouth with a protective gel or a rubber barrier known as a dental dam. After the whitening solution is placed on the teeth, the process may be supplemented by heat or a light source to activate or enhance peroxide release.
For bleaching teeth at home, our office can make custom-fitted bleaching trays that you fill with a gel form of carbamide peroxide. Sometimes this whitening gel can cause a temporary tooth sensitivity to hot and cold, but this normally lasts for no more than four days after you stop bleaching your teeth.
To learn more about tooth whitening, you can continue reading the Dear Doctor magazine article "Teeth Whitening." Or you can contact us today to schedule an appointment so that we can conduct a thorough examination and discuss what treatment options will be best for you. And to read the entire interview with Cat Cora, please see the article "Cat Cora."